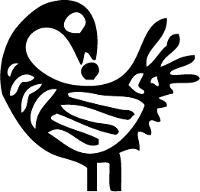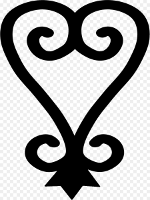 Pronunciation of Sankofa
Meaning and significance
Sankofa means "Go back and get it." As the Akan proverb goes, "Se wo were fi na wosan kofa a yenkyiri." To wit, it is not taboo to go back and get something after you have forgotten it. More literally, it means if you forget and you go back to get it, there is nothing wrong with it.
That history has much to teach is not in question but the wisdom of this sentiment is even more pronounced in societies which have nothing more than an oral tradition to transmit their culture and values. Then, not only is history important, but also those who know it. Further, the literary and narrative memorials the elders establish must be preserved lest their discoveries be lost forever.
The arrogance of succeeding generations may lead them to ignore established conventions and traditions because the events and experiences that led to their construction would have faded out of the general consciousness but this is a grave error that must be avoided. Sankofa embodies the spirit and attitude of reverence for the past, reverence for one's forebears, reverence for one's history, reverence for one's elders. The mythical bird effortfully bending its neck to reach back for the abandoned but precious egg signifies the diligence and effort required to pay due reverence to the past and give it its proper place in the current scheme of events. Sankofa is a gentle admonition that if even in our arrogance we overlook the gems from the past, when we come to our senses we should be humble enough to retrace our steps and make amends. As the popular saying goes, those who do not know history are doomed to repeat it. So are those who do not know or respect their roots and history bound to repeat its flaws and mistakes.
With every appeal to show regard for the past comes the objections about its obvious flaws. We need not deify the actors nor conjure up hagiographies for them to learn from them. Neither do we need to sanitize their legacies or purge their sins from memory. We only need to take their histories for what they are–flawed as they were, blind as they were, wrong as they were–for we are likely no better. Our progeny will make similarly damning if not worse assessments of our lives when we are gone. It behooves us to sift the wheat from the chaff and draw the useful lessons.
Two Sankofa symbols
There are two Sankofa symbols. The more popular one is the bird with the contorted neck but the other one which looks more like the conventional symbol for the heart is also used. This figure is symmetrical about a vertical axis with each half spotting two spirals. One at the top and the other at the bottom. The spirals probably represent the idea of going around but ending up at a point–presumably the source. We should not forget our roots for its tendency is to feature inexorably in every aspect of our lives.
Akan proverbs and sayings relating to the meaning of Sankofa
Tete wo bi ka, tete wo bi kyere
Wo were fi na wosan kofa a yenkyiri
Okyem tete a eka ne mmeremu
Tete na atete ama amanfoo anya bi apempam
Kuntu hwane a eko nakyi
Sankofa in logos and emblems
Bibliography
The meaning of the symbol was taken from The Adinkra Dictionary by W. Bruce Willis.
The first Sankofa image was obtained from the website of the Carter G. Woodson Center.
The second Sankofa image was obtained from CleanPNG.
More Adinkra Symbols